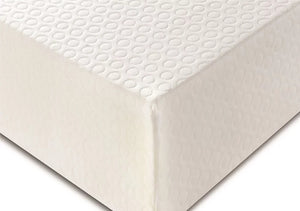 Sizes(s):
3ft (Single)
4ft (Small Double)
4ft6 (Double)
5ft (King)
6ft (Super King)
All our mattresses are suitable for any type of bed frame or base, and compliant with all UK regulations, including fire regulations and standard UK sizing. 
Here, at Furniture Boulevard, our great prices and excellent customer service have provided us with thousands of satisfied customers.
So know that when you choose us you can expect your item to be of the highest quality and dispatched quickly at the fairest price.
SPECIFICATIONS
Product Type: Memory Foam
Firmness: Medium Soft
Foam: 8" Memory Foam Mattress - 6" Reflex Foam with 2" Layer of Memory Foam On top
High Density Quality Memory Foam that is Hypo Allergenic it Contours To your body's natural shape, offering full head to toe anatomical support. Relieves pressure points across the body. It come with a washable Zip cover.


CARE & MAINTENANCE
Health & Safety:
DO NOT jump on the mattress
DO NOT use this mattress if any parts are missing, damaged or worn.
Always use on a level, even surface, Please keep small parts out of reach of children Always use on a level, even surface.
Open in the room of use, unrolling should be carried out with this item laying flat, not standing upright. All mattresses should be left to rise for up to 24-72hrs.
Keep any sharp objects away from the item.